Vice Chancellor
Main Content
Lori Stettler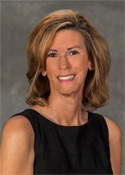 Upon the return of the SIUC Student Affairs Division in July 2015 and the appointment of Stettler as the Vice Chancellor for Student Affairs in December 2017, SIU President Dr. Dunn said "Lori brings a collaborative, team-oriented leadership style that will contribute to a smooth transition and positive relationships with our students." 
Stettler has been assistant vice chancellor for auxiliary services since 2011. She has also served as director of the Student Center at SIU, director of campus life and director of recreational sports at Southeast Missouri State University, and in related student affairs positions at Purdue University, the University of Illinois at Urbana-Champaign and Wichita State University. In addition, she taught courses in the departments of communications and health, human performance and recreation at Southeast Missouri State.
Stettler was SIU's 2009 recreation alumnus of the year and received the 2005 Horace Moody Student Development Award from the National Intramural Recreational Sports Association. She is member of a number of professional associations, including the National Association of Student Personnel Administrators and the National Association of Campus Auxiliary Services, and has presented widely on topics related to auxiliary service management, leadership and professional development.
She holds a bachelor's degree in recreation administration from Southeast Missouri State and a master's degree in recreation administration from SIU. She is nearing completion of her doctoral degree in educational administration and higher education from SIU.